What is the association of Dr. Ihaleakala Hew Len and ho'oponopono, which is an ancient art of using Hawaiian prayer to bring about mental cleansing and healing?

His interpretation and modification of the age-old healing method, brought it up to date and made it widely accessible by modern practitioners of the natural healing arts the world over.

What really put Dr. Ihaleakala Hew Len on the healing map was his astounding story of healing every patient in the ward for the criminally insane at the Hawaii State Hospital.

He did this through his interpretation of the ancient healing method of Hawaiian prayer called ho'oponopono without ever physically seeing a patient. While this may seem odd, the story is actually quite true.
How Dr. Hew Len Healed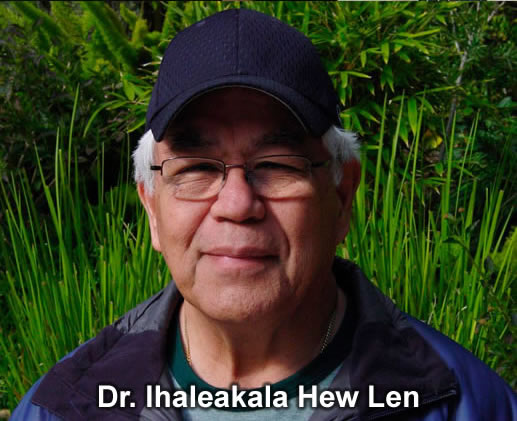 Dr. Len opened an office at the hospital to review patient files. He looked at the files while working on himself.

After four years, all patients had healed.

In addition, staff members who had quit calling or were sick eventually came back to work.

To achieve all this, Dr. Len used ho'oponopono, the Hawaiian cleansing and healing technique. It is based in healing through self-love.

During each review of each file, Dr. Len reiterated the words "I love you, I am sorry" repeatedly.

After a few months the patients who had been in chains were free to move, the medications were stopped and patients were finally allowed back into society.
Word Got Around
Word spread fast and many people became interested in this amazing story. However, very little information was available.

Dr. Joe Vitale, best selling author and personal growth guru, heard Dr. Len's story and decided to learn directly from him.

Dr. Vitale quickly learned that Dr. Len is a master teacher for the ancient Hawaiian practice, Ho'oponopono.

He found out that the powerful forgiveness process and releasing process is capable of clearing one's mind of subconscious blockages, allowing destiny and desire to take over and helping you get what you really want.

This process removes unconsciously accepted beliefs, thoughts and memories that hold you back. Their collaboration eventually led them to co-author Zero Limits. This book chronicles the journey.
Ho'oponopono Certification Course
An additional product of their collaboration was the creation of a full-featured ho'oponopono certification course for practitioners, which is a digital, downloadable training and available to purchase online (follow the link for more information).

Providing the all-important healing music for the course, is Mathew Dixon, guitar monk and good friend and of Joe Vital. The comprehensive training course was created between them all.

This tuition course is designed to teach students who wish to become teachers in their own right of ho'oponopono.
Blue Light Water
Another interesting fact concerning the use of healing techniques is that blue solar water is one of Dr. Len's favourite cleansing tools.

To make this, begin by filling a blue glass bottle with clean water. You can use tap water or other purest water.

Once the water is filled, let it sit in the sun for 10 to 20 minutes. For a stronger effect, you can leave the bottle outside for up to 12 hours to recharge the water with the healing light.

Incandescent light is preferred if there is no sunshine available for a significant amount of time, but try to avoid using unnatural LED or fluorescent light.

Using the water will help you to forget about recurring "memories" or programs, and it will also free you from their harmful effects. It will enable you to get in touch with God.

Dr. Hew Len has retired. The good news is that ho'oponopono for healing has become far more widely used as a healing and mental cleansing technique for helping people to overcome the problems that are holding the back.

Date Posted: 17th November, 2021

(TOP)